Step 1
Pick the right spot.
Before removing the blue backing liner, pick the best spot to stick the strap.

For best results, pick a part on the sole which looks like it has the least wear on it. If your shoes are new, check some old pairs to find where your shoes wear out the quickest. It is also helpful to stick to a spot which is relatively flat and without deep tread patterns.

If there are no flat spots on your shoe sole, this guide will show how to activate the Thermo-flex layer to overcome even the trickiest of shoe soles.
Clean the selected spot with a bit of water and a paper towel to ensure there is no debris or dust on the shoe sole.

Once clean, open the white sachet provided in the pack.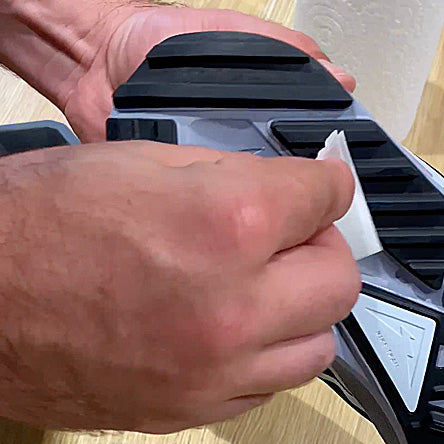 Use the towelette from the sachet to prepare the surface on the sole where you have chosen to stick the strap.
Step 4
Position small tab.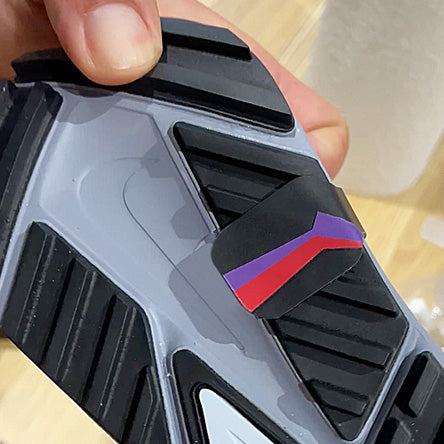 Without using any pressure, lightly stick the small tab of the strap on the sole. Ensure that almost none of the stem section is fitted under the shoe sole as shown.
Step 5
Thermo-flex activation.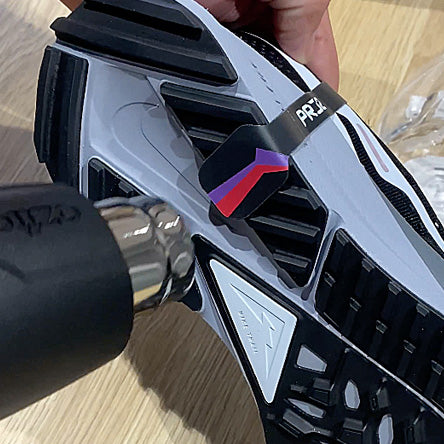 For shoe soles with heavy grooves, best results will be found by activating the Thermo-flex layer.

Simply heat the strap at between 150-300 degrees Celsius, holding a heat gun a few inches away from the strap for about 10 seconds. Or you can use a hair dryer on high for about 30-60 seconds.

The strap should be soft enough to mold into the recesses of the sole.
Use a flat tool to work the tab into the grooves.

Start at the grooves closest to the stem of the strap and work out towards the end of the tab.

Apply good pressure to get right into corners and once the strap has cooled, work the final bits in with your fingers with good pressure.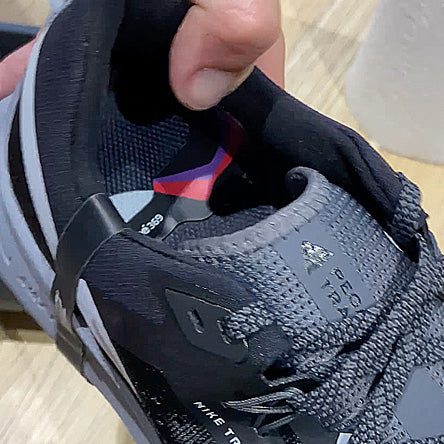 Once the strap is fitted securely to the sole, you can stick the stem firmly to the sidewall of the shoe and the larger tab inside the shoe.

For best results, let the adhesive cure overnight before use.
erthe369 grounding technology